Here's to a new and exciting week at New Vision Charter School! 💜🧡 As we gear up for Halloween tomorrow, please visit our website or our previous newsletters to review all Halloween Costume Expectations. Let's ensure a safe and fun celebration for all! 🎃🍁✨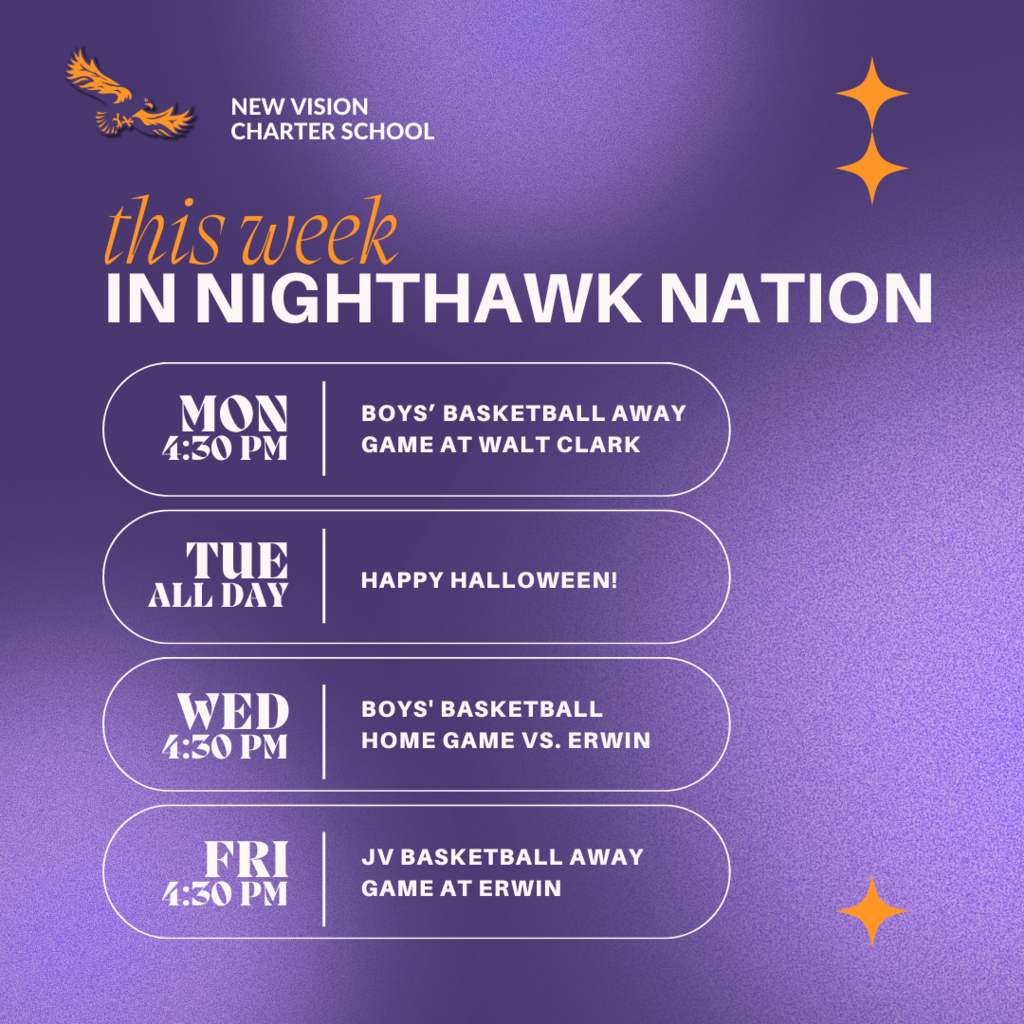 ✨🌟 Introducing Weekly Staff Spotlights! 🌟✨ In our very first spotlight, we shine the light on Tona Greco - one of our dedicated Math Interventionists! 📊🍎 Tona has been a driving force in the world of education for 18 incredible years and has been with New Vision Charter School from Day 1. We are incredibly fortunate to have her as part of our team! 🏫👏 Join us in celebrating Tona, her unwavering commitment, and the positive impact she brings to our school. 💜🧡
Tomorrow is your last chance to stop by the Fall book fair! 💜🧡📖 The Book Fair will be open to all from 8:00 AM - 4:00 PM tomorrow! Help New Vision Charter School meet our goal and inspire a love of reading in our students. 👩‍🏫📚
🌦️🌟 Weather Wonders at New Vision Charter School! 🌤️✨ New Vision Charter School was thrilled to welcome Denver7's Lisa Hidalgo, who brought the fascinating world of meteorology to our eager Kindergarteners! 🌪️🔍 Our young learners had the incredible opportunity to explore the science of weather with a real expert, all while showcasing our core knowledge curriculum. Watch the news clip below to see our future meteorologists in action! 🌟📺
https://youtu.be/7oRtCDJzVDM?feature=shared
At New Vision Charter School, we're committed to providing a well-rounded education that sparks curiosity and ignites a passion for learning. Thank you, Lisa Hidalgo, for joining us on this educational journey! 🌦️🎓📚
🌟 Happy Monday! 🎉✨ We hope you had a fantastic Fall Break, and now it's time to dive into an exciting week ahead. Don't forget, there's no school this Friday due to Parent-Teacher Conferences! Let's make the most of our school days and continue to learn, grow, and shine. Here's to a great week, Nighthawks! 🏫💙
Reflecting on the Highlights of Quarter One! 📸💜🧡 From classroom adventures to spirited events, the memories we've created together have made Quarter One absolutely fantastic. 🌟 As we soak in the joy of Fall Break, let's celebrate the successes and look forward to the countless more moments that lie ahead in the rest of the school year. Nighthawk Nation, you make every snapshot special! Enjoy your well-deserved break! 💫🏫💜🧡
🌟 Happy Monday, Nighthawk Nation! 🎉✨ Let's tackle this week with a positive mindset and make every moment count. Here's to another week filled with learning, laughter, and success at New Vision Charter School! 🏫💜
🌟 Get Ready to Show Your School Spirit, Nighthawk Nation! 🎉📣 It's Spirit Week at New Vision Charter School, and we're gearing up for a week filled with fun, enthusiasm, and tons of school pride! 💜🧡✨ Plus, mark your calendars for Friday because it's our much-awaited annual Hawk Walk, brought to you by the amazing PTO! 🚶‍♀️🏫 Get ready to strut your stuff, show off your spirit, and make this week one to remember! 👏 #NVCSspiritweek #HawkWalk2023
📚🎉 Happy Monday, Nighthawk Nation! 🌟 Let's embrace the week ahead with enthusiasm, and make this week one filled with laughter, learning, and endless possibilities! 🏫💙
🌟 Cheers to a New Week at New Vision Charter School! 📚✨ Let's make it a week full of learning, laughter, and success! 🏫🎉
Nighthawk Sports in Action: Crazy Day in sports at New Vision. Soccer into overtime with a score of 2-2 and lost with a goal in Overtime. Volleyball: All 3 games went to the third set where the 6th and 8th graders lost in a nail biter, but the 7th Grade came out on top.
🌟 Exciting Week Ahead! 📚✨ We hope you had a fantastic weekend, and now it's time to dive into another week at New Vision Charter School. Let's make this week even better than the last! 🏫🎉
NIGHTHAWKS Sports In Action: The New Vision Cross Country team face a field of 39 teams at the Wolverine Middle School Invite. Congrats to our girls who are coming home as 2nd place against a tough field. Way to go Nighthawks.
🌟 Explore, Learn, and Dream in our Nation's Capital! 🏛️🌆 We're thrilled to announce an incredible opportunity for our students - a Spring Break trip to the historic and captivating Washington DC! 🗺️✈️ Join us for an informational meeting on Thursday, September 14th, at 5:00 PM in the campus commons. Discover all the exciting details about this unforgettable adventure! 🌟📆 This trip is a chance for our students to immerse themselves in the rich history, culture, and heritage of our nation's capital. From iconic landmarks to immersive museums, this experience promises to be both educational and fun. 📚🌟 Let's embark on a journey of discovery and exploration together! We can't wait to see you at the meeting, full of curiosity and excitement for the amazing adventure that awaits. 🚀🎓 Find out more here:
https://worldstrides.com/custom/2024-new-vision-charter-school-dc-209237/
NIGHTHAWK SPORTS IN ACTION. Volleyball: Came up on top in 2 sets for 8th and 3 sets for 6th Grade. 7th Grade Lost in 2 sets. Soccer: A Team flew past Lincoln 6-4 and B team fought hard but came up short. Great Effort Nighthawks
Get ready, Nighthawk Nation! THIS FRIDAY, September 8th is our first House Spirit Day of the year! Dust off those face paints and tutus, scour your wardrobe for your house's color, and let your spirit shine! This is your chance to earn points for both yourself and your house, so so let's make it a day to remember and start the year off strong! 🌟🏆
We hope everyone had a fantastic long weekend and a well-deserved break for Labor Day! Now, it's time to dive back into action at New Vision Charter School with a week filled with exciting events! 💪📖 As we embrace the fresh start of a new week, let's carry the rejuvenation from the holiday into our classrooms, fields, and endeavors. May this week be filled with inspiration, growth, and memorable moments! 🎉📚
NIGHTHAWK SPORTS IN ACTION. Volleyball powered to a victory in 2 sets for 6th, 7th, and 8th grade. Boys' B Team came up short against Loveland Classical. Way to Go Nighthawks
Wishing everyone a fantastic week ahead, where dreams are chased, goals are conquered, and spirits soar high! Let's make it one for the books! 🌟📆💙